Safeguarding
The safeguarding team is in charge of keeping children safe at home and at school. They are called Designated Safeguarding Leads (D.S.L).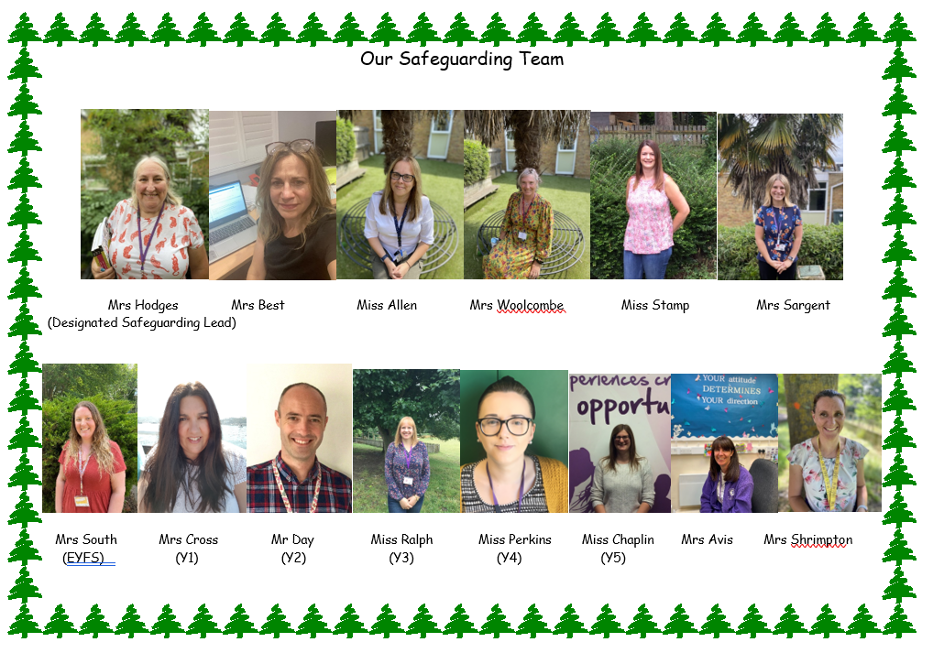 What is Safeguarding?
Safeguarding is the action that is taken to promote the welfare of children and protect them from harm.
Safeguarding means:
protecting children from abuse and maltreatment
preventing harm to children's health or development
ensuring children grow up with the provision of safe and effective care
taking action to enable all children and young people to have the best outcomes.
Safeguarding children and child protection guidance and legislation applies to all children up to the age of 18.
What is Child Protection?
Child Protection is part of Safeguarding and promoting welfare. It refers to the activity that is undertaken to protect specific children who are suffering, or are likely to suffer, significant harm.
Safeguarding and Child Protection Policy
You can find out more in our Safeguarding and Child Protection Policy which can be found below.
A child-friendly version of our policy is displayed around the school.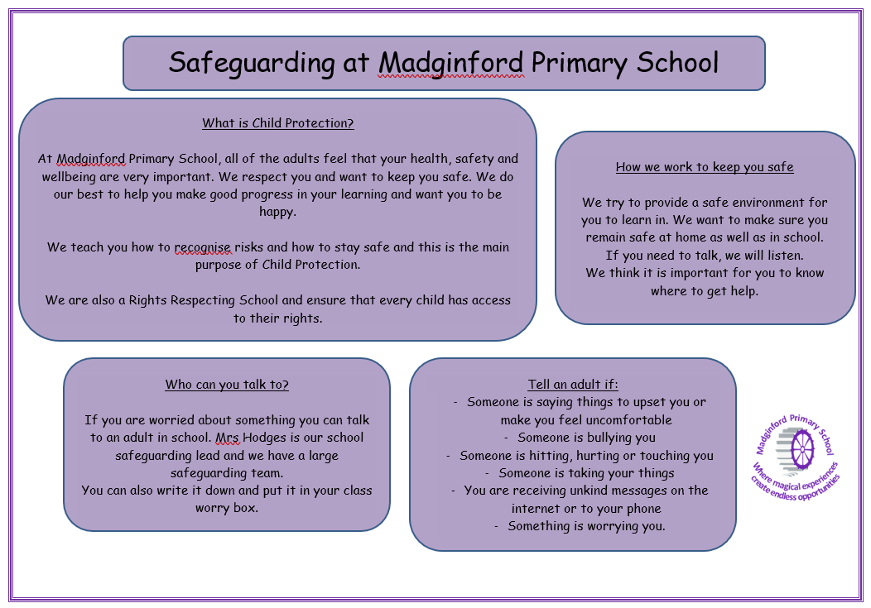 Staff Understanding of Safeguarding and Child Protection
All staff must read and sign Part 1 of Keeping children Safe in Education 2021 and all staff receive a minimum or one safeguarding and child protection training session annually.
Additionally, there is a rolling programme of professional development for all staff who work with children.
Online Safety
Online Safety highlights the importance of educating our children about the benefits, risk and responsibilities of using a wide range of technology both in and out of school. Online Safety is about safeguarding children and young people in the digital world. It is making sure that children know how to use exciting new technology in a positive way.
Protection at School
Each child will bring home a School Internet Acceptable Use Agreement which is talked about in school and should be discussed at home as well. Parents and children then sign the agreement to say that they agree to use the internet safely and appropriately in school.
Keeping Children Safe Online
The issue of online security for children is taken extremely seriously by governments and police forces around the world. There are police taskforces to monitor exploitation on the Internet and organisations that offer advice and help.
One site that offers a range of advice about safety on the web is the Child Exploitation and Online Protection Centre (CEOP).
Guidance from CEOP is available to support parents:
Know how your child is accessing online content and if possible, have them do this somewhere in the home where you are so that it is not a secret.
Talk to your child about the issues to do with online safety and how they use the internet; generate an atmosphere of trust so that your child can feel confident and secure when accessing content on the internet.
Encourage your child to tell you anything which they feel unhappy or unsure about. Reassure them that they will not get into trouble for doing this and that it is never wrong to flag up something they are concerned about.
Know how to report your own concerns. Either directly on a website, to your child's school, through CEOP or ultimately to the police. No matter how trivial you think something may seem, it is always worth reporting it if it makes you uneasy or you think there is the possibility that someone is acting inappropriately towards a child online.
Reporting an Online Safety concern
If you want to report an Online Safety concern please visit the UK Safer Internet Centre website (www.saferinternet.org.uk) or speak to one of our Designated Safeguarding Leads in school for advice.
Further advice and guidance is available from KCC at : KCC online safety